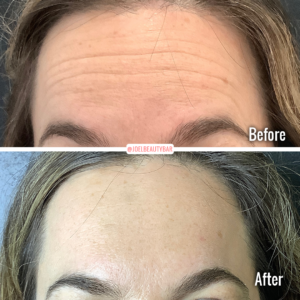 Wrinkle relaxers are the most popular treatment we offer at Joel Beauty! Whether you want to erase those pesky fine lines and crows feet that have occurred over the years, or simply start on your treatments now to prevent them from happening – we can help.
Botox and Dysport are the two wrinkle relaxing products we carry. Although Botox and Dysport are each made by different companies, they are basically identical in the way they work. Both products have the same active ingredient, and work by temporarily relaxing the targeted muscle. Botox and Dysport inject and act similarly, so you probably won't notice any difference during treatment.
Wrinkle relaxers contain a naturally occurring substance that helps to diminish the look of wrinkles and fine lines on your face and neck! Most of our clients use Botox for problem areas like the forehead, upper eyelids, neck, and the areas around the brow. The reduction of any wrinkles and fine lines you may have can improve your self-confidence and reduce the appearance of aging. And best of all, Botox is FDA indicated to last between 3-4 months, so just like highlights as long as you touch it up a few times a year you should be fine.
Wrinkle relaxers provides long term results. If the lines are treated with Botox on a regular basis, they tend to remain more superficial. The longer you are treated, the longer your results will last!
Botox can prevent you from needing more expensive treatments later on. Once the fine lines are "carved" into the skin, then only relaxing the muscles with Botox will not erase all of the lines. Prevention is way easier and cheaper then expensive surgeries later on!
If you're starting to see fine lines forming around your forehead, eyebrows, eyes or neck, you may want to start thinking about getting botox treatments. The sooner you start treatments, the better as botox will prevent fine lines from becoming deeper over time!
If you're curious about wrinkle relaxers, just book a no obligation, completely free consultation with Dr. Elizabeth! We can talk through all your concerns and create a treatment plan based on your treatment goals. Come see us!
Book your appointments online 24/7. Send us text messages with questions 24/7. We'd love to hear from you whenever it's convenient for you.
Our providers have performed thousands of treatments and are Board Certified Plastic Surgeons or Board Certified Nurse Practitioners.
In a world where corporate greed is what rules many companies, we lead with kindness toward our clients, toward our employees, and toward each other.
Our consultations are 100% free.