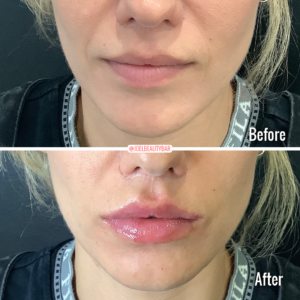 Looking for a lip enhancement?
Look no further than Joel Beauty! Whether you want a little enhancement, an average enhancement, or an instagram worthy makeover we can make it happen.
Wanting to lessen your lip lines, or just add some volume? We carry a wide variety of fillers to suit your desired look, longevity, and price range. You can find exactly what you need at Joel Beauty. There are two brands of lip filler we use – the Juvederm line of filler, produced by Allergan (the makers of Botox), and the Restylane line, produced by Galderma (the makers of Dysport.) Both Juvederm and Restylane are fantastic Lip fillers, with just a few minor differences in the two products. Both will provide lasting results, they're just used for different purposes and desired results! Certain fillers provide large amounts of volume or structural change to your lips, while others gently plump and provide symmetry to the existing shape. 
Lip fillers help to rejuvenate your smile, and smooth lip lines that have appeared over the years. If you've been feeling like your lips just don't look as young as they used to anymore, come talk to us about a little enhancement. We can tailor your treatment to suit your needs exactly.
Clients usually report very little discomfort during their treatment. Numbing agent is applied topically, and a small dose of lidocaine is in each syringe of filler. This lidocaine numbs as you are injected, so its a much more comfortable and easy procedure! Hyaluronic Acid is a naturally occurring substance, and filler rarely causes a reaction in clients. After your treatment you may experience side effects, such as swelling, redness, or bruising, but these are usually very mild and go away shortly after treatment.
Are you curious about a Lip Enhancement at Joel Beauty? Come talk to us! Dr. Elizabeth offers completely free consultations where we can go over all aspects of the procedure, your filler options and how we can achieve your lip enhancement goals! 
Book your appointments online 24/7. Send us text messages with questions 24/7. We'd love to hear from you whenever it's convenient for you.
Our providers have performed thousands of treatments and are Board Certified Plastic Surgeons or Board Certified Nurse Practitioners.
In a world where corporate greed is what rules many companies, we lead with kindness toward our clients, toward our employees, and toward each other.
Our consultations are 100% free.