Cheek and Chin Enhancement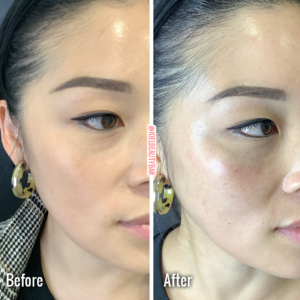 Looking for an enhancement to your already stunning profile? Our Cheek and chin enhancing treatments are just what you need!
We use Dermal Fillers like Juvederm Voluma and Restylane Lyft in the cheek, chin and midface area to provide immediate lifting, contouring, and definition! Whether you've noticed volume loss in your area of concern, or you just want an extra lift for your cheekbones dermal fillers can give you the results you desire. Cheek and chin enhancement using dermal filler can take years off your face! Dermal filler can also be used for reconstruction involving birth defects or trauma. These dermal fillers can last for up to 2 years and are metabolized safely by the body. Results are visible right after your procedure, and there is practically no downtime.
Dermal fillers are made of hyaluronic acid, a substance that is present naturally in the body – this means it's much safer than invasive surgery because allergic reactions, rejection and side effects are extremely rare and there are no complications to worry about. The most downtime you'll see may be a bit of redness or swelling!
If you're curious about Cheek or chin enhancement, just book a no obligation, completely free consultation with Dr. Elizabeth! We can talk through all your concerns and create a treatment plan based on your goals. Come see us! We'd love to talk to you. 
Book your appointments online 24/7. Send us text messages with questions 24/7. We'd love to hear from you whenever it's convenient for you.
Our providers have performed thousands of treatments and are Board Certified Plastic Surgeons or Board Certified Nurse Practitioners.
In a world where corporate greed is what rules many companies, we lead with kindness toward our clients, toward our employees, and toward each other.
Our consultations are 100% free.